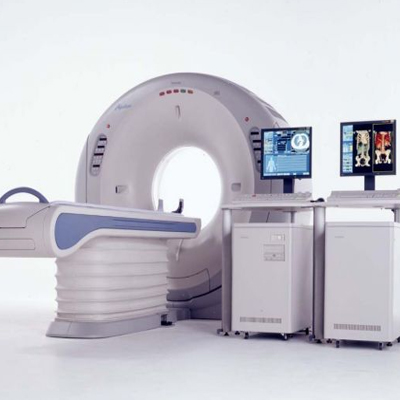 A CT scan is a fast and painless imaging procedure used to take images of the inside of your body. CT is an abbreviation for Computed Tomography. CT scans are also referred to as CAT scans (Computed Axial Tomography). A CT scanner is a special kind of X-ray machine used to study the human body in cross sectional views. This allows radiologist to visualize images of the inside your body with multiple views. In addition, CT scanning can also be used to help guide biopsies as well as therapeutic & pain relieving procedures. CT scans are typically done without contrast but if your Doctor is looking to rule out a specific diagnosis, contrast may be required to help identify the pathology. CT contrast includes PO contrast which is also called oral contrast and IV (Intravenous) contrast. PO contrast consist of a drink you take prior to having the CT scan and is used when studying the digestive tract to better visualize the inside the stomach, intestines, and colon. IV contrast is contrast medium delivered through a small IV usually in the arm and can be used to visualize blood flow as in a CTA (Computed Tomography Angiography) as well as to identify by enhancing specific abnormal pathology that may be difficult to visualize without the use of IV contrast. For certain cases both PO and IV contrast may be needed to visualize specific pathologies.
Latest 2017 Worldwide Launch
STELLAR detector – the industry leading detector - delivering crystal clear images. The Stellar detector's high-end technology includes fully integrated components and an advanced 3D anti-scatter collimator. It keeps electronic noise low, increases dose efficiency, and improves spatial resolution. With 0.6mm slice thickness, even the smallest malignancies can be visualized.
SAFIRE – State-of-art advanced iterative reconstruction algorithm that delivers excellent image quality at lowest doses. Approved by FDA for upto 60% less dose compared to older technology.
Tin Filter - cuts out lower energies to reduce dose and optimize image quality at the interface between soft tissue and air with direct benefits in lung and colon imaging. Tin Filter technology reduces beam hardening artifacts and improves image quality in bony structures, making it extremely useful in orthopedic examinations
High Quality CT Angiography - always-on sub mm collimation over the complete detector width and high power reserves in the generator and tube enable uniform low kV scanning over longer ranges. Allows high quality angiography exams of central and peripheral arteries with superior iodine contrast
Combined Applications to Reduce Exposure (CARE) – enables patients to receive the right dose for their imaging requirements with dedicated pediatric protocols.
Fully Assisting Scanner Technologies (FAST) – with artificial intelligence for ensuring high quality and improved patient outcome.
Mobile Workflow Design & GO technologies - Higher performance through workflow automation and enhancing patient comfort for potentially higher levels of patient satisfaction.
High Resolution bone imaging & Advanced Volume Rendering Techniques (Advanced 3D application)
Advanced Metal Artifact Reduction - Outstanding image quality with metal artifacts removed while valuable information remains even for challenging cases like spine implants, pacemakers, dental fillings and neuro coils.
Lung CAD – Advanced Computer aided detection tool designed to assist radiologists in the detection of pulmonary nodules during review of CT examinations of the chest
US FDA, European CE and AERB approved.
How should you prepare and what to expect
If the exam is ordered without contrast, little or no preparation such as fasting may be required specific to your exam. If your exam does require preparation instructions you will be contacted 24 hours prior to your exam and given exam specific preparation instructions. If the test is ordered with IV contrast by your physician you will be required to receive a contrast injection into a vein in your arm. The technologist may ask if you have asthma or if you have allergies to Iodine and certain drugs. The IV contrast material used at GENNext Diagnostics for CT is nonionic iodine and is less likely to cause an allergic reaction than standard iodine contrast. You will be asked not to consume food 4 hours prior your exam to avoid complications during the rare event of an anaphylactic contrast reaction. In addition, patients 60 years or older require a blood test for renal (Kidney) functions. It is very important to provide us with relevant previous exams such as CT and/or MRI for our radiologist to compare. You may be asked to wear a gown during the exam or you may be allowed to wear your own clothing if it is loose-fitting and has no metal fasteners. The technologist will provide a secure locker to place all your belongings as no foreign objects are allowed in the CT suite for your own safety.